Black Thugs Matter:
The Glorification of Felons
A 50-year history during which America's elites and non-white underclasses have together waged war on white policemen, by continuously committing crimes against cops, and moving the legal goalposts, in order to handcuff and railroad the police, and free and enrich black criminals and their families. [Vdare]
See also We Used to Shoot Looters #1
No Human Rights for non-criminals

Rich Black Felons
Rodney King
Black "victims" of police brutality
Virtually all famous black "victims" of "racist" white police violence are not quite the innocent victims the media make us believe.
The democratic party makes heroes out of the families of these criminals.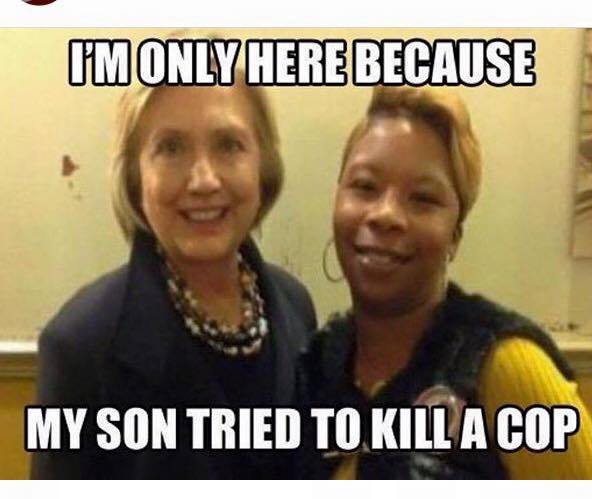 At least these "victims" disobeyed lawful orders, physically resisted arrest, but usually even attacked police with the intent to hurt, maim or kill.
Police reaction was usually justified and necessary and often as moderate as possible.
There is an unspoken assumption among anti-racists and leftists, that "historically disadvantaged groups" (Blacks)
should be allowed to offend police, verbally attack them, maybe even spit and get somewhat physical
have the god given right to passively or violently resist arrest
should be let go if they resist arrest.
More at Minorities are not held to white standards
Unequal treatment, unequal rights
Violence by Anti-Racists is justified
Black youth are not given the best advice how not to become victim of police violence. The best advice is
"Don't attack police". Don't resist arrest
Proof: a one by one analysis shows that none of the famous "victims" of police violence obeyed police. Partial proof below,
Also See
DNC2000 Black Torture Murderers Matter
This multi-day-torture-to-death woman makes Trayvon Martin, Micheael Brown really look like Angels.
Here is the Video: So incredibly honored and humble to have been asked to participate in the Preamble of the Constitution for the DNC tonight.
DNC Features Convicted Murderer Who Squeezed Victim's Testicles with Pliers

At the Democrat National Convention (DNC) this week, a convicted murderer and kidnapper implicated in a gruesome 1985 torture and killing case was featured as a "criminal justice reform advocate.

"

Donna Hylton, a 55-year-old Jamaican-American who was abused and molested as a child, was given a short slot in a DNC video montage where supporters of Democrat presidential candidate Joe Biden recited the Preamble of the Constitution.[…]



Hylton was sentenced to 25 years to life in prison after she participated with six other people in the brutal kidnapping, torture, and murder of Long Island, New York, real estate broker Thomas Vigliarolo, 62-years-old, in 1985.
The New York Times, in 1985, reported that Hylton and six others had kidnapped Vigliarolo and held him for a $435,000 ransom for about two weeks before murdering him. His body was found locked inside a trunk in an apartment in Manhattan.
The Washington Post reported on the case in 2018, noting Hylton's links to the Women's March: […]
The apartment had already been prepared for an extended torture session: The closet door had been cut, a pot put in it for use as a toilet, the windows boarded.


For the next 15 to 20 days (police aren't sure just when Vigliarole died), the man was starved, burned, beaten, and tortured. (Even 10 years later, Spurling could recall Rita's chilling response when they questioned her about shoving a three-foot metal bar up Vigliarole's rear: "He was a homo anyway." How did she know? "When I stuck the bar up his rectum he wiggled.")

…

[New York City Detective William] Spurling himself interviewed Donna: "I couldn't believe this girl who was so intelligent and nice-looking could be so unemotional about what she was telling me she and her friends had done. They'd squeezed the victim's testicles with a pair of pliers, beat him, burned him. Actually, I thought the judge's sentence was lenient. Once a jailbird, always a jailbird."
Many popular famous rich Blacks have a criminal past or present
See Profiling Is Wrong No Matter HOW Right It Is—As Ex Drug Dealer And Thug Jay-Z Explains
Danger, injuries and death for police, or the public, from such irresponsible criminal behavior is of absolutely no concern for anti-racists.
See also Human Rights for non-Criminals
White or Black police officers killed by black criminals are routinely played down or not covered by media.
See also Press code & apa style books
It is amazing that the Left and Anti-Racists can barely find a single case of racial injustice against Blacks, and thus have to deceptively trump up cases or actually perpetrate lying hoaxes.
Many famous "victims" were career criminals with huge criminal records before, during and after their police encounter.

Furthermore most had resisted arrest or even attacked police.
Minorities are not held to white standards
Unequal treatment, unequal rights
Violence by Anti-Racists is justified
Rodney King And Cops–The 90s Version Of Ferguson - VDARE.com [reprinted in full further down]
See also Hoaxes: Anti-racist lies
Black political heroes
[...]Mr. Richardson told of using garden shears to kill Stompie Seipei in 1989 after beating him for days. He said Mrs. Mandela participated in the beatings, using her hands, fists and a whip. But she never did any of the killing, he said. [...]
But Mr. Richardson said that he only beat and killed people under specific instructions from Mrs. Mandela. He said he had participated in four killings she ordered, saying that when he returned from one such killing, she embraced him and said ''My boy, my boy.''
The Truth Commission, which is charged with investigating apartheid-era atrocities, has been holding hearings on the role of Mrs. Mandela and her football club in 18 cases of murder or assault in the 1980's. The commission does not have the power to prosecute, but it can submit its findings to the police.
Mrs. Mandela was convicted in 1991 of kidnapping and assaulting Stompie Seipei and was fined $3,200. [Winnie Mandela's Ex-Bodyguard Tells of Killings She Ordered]
Black Thugs Matter
Anti-Racists, aided by main stream media distortiong (aka "lying press" idolized a series of Black thugs, career felons, serial criminals, petty criminals that resisted arrest but who hat the misfortunes to be hurt or killed while resisting, evading or attacking police.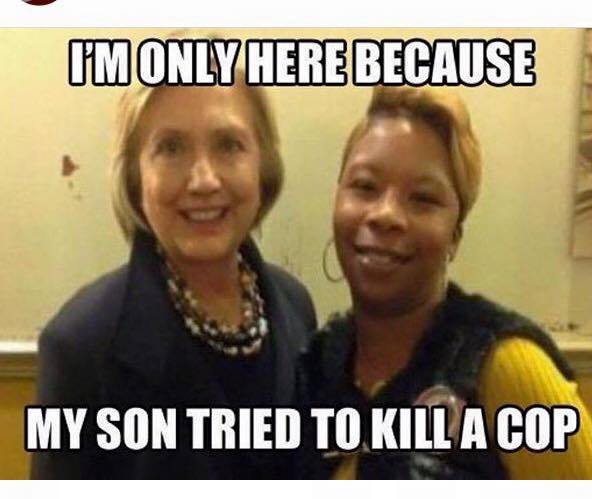 ---
The Philadelphia Fraternal Order of Police (FOP) condemned Democratic nominee

Hillary Clinton for deliberately ignoring the widows and families of police officers murdered in the line of duty

— heavily implying that those executed were victims of domestic terrorist group, Black Lives Matter.
The mothers of Trayvon Martin, Michael Brown, Eric Garner, and others are scheduled to speak at the Democratic National Convention in Philadelphia.
"President John McNesby and the membership of Philadelphia Lodge 5 FOP are shocked and saddened by the planned choice of speakers at the upcoming DNC in Philadelphia," the letter reads:
The Fraternal Order of Police is insulted and will not soon forget that the Democratic Party and Hillary Clinton are excluding the widows, and other family members of Police Officers killed in the line of duty who were victims of explicit, and not implied racism, and "being on duty in blue."

It is sad that to win an election Mrs. Clinton must pander to the interests of people who do not know all the facts, while the men and women they seek to destroy are outside protecting the political institutions of this country.

Mrs. Clinton, you should be ashamed of yourself if that is possible.
Black Lives Matter has repeatedly, publicly agitated for police murders and its supporters light up Twitter with gleeful hate directed at dead cops after every massacre. The Philadelphia Fraternal Order of Police's stinging rebuke comes in response to Clinton's unite-the-fringes strategy that aims to channel the anti-racism, anti-cop frenzy into votes for Democrats.
---
Supporting such criminals, spreading distorted and false news to incite riots does grave disservice to the majority of honest, hard working Blacks and to racial harmony and peace.
See also
Black Thugs Matter: Glorification of Felons
Human Rights for non-Criminals
Anti-Racists do a disservice even to criminals, looters and rioters whose life might have taken a positive turn when treated with tough Love

instead of bnefitting from coddling misinformed by faulty Disparate Impact theory &&
---
Video: 'Black Lives Matter' Rioters Target Whites For Beat ... - Infowars \ - #BlackLivesMatter rioters target whites: "They beating up all the white people. .... Are a FEW cops racist, i'm sure they are but not as many as BLM .... group of black thugs can beat uo and rape a 90 year old elderly woman plus ...
---
Left-Racism: Anti-Racists are (inverse) Racists
---
Law enforcement experts rip celebration of group that vilifies police, stirs destructive riots
Western Australian Labor senator Pat Dodson and former winner of the Sydney peace prize told the Guardian newspaper that Black Lives Matter as a movement stands against "ignorance, hostility, discrimination, or racism."
Defenders of law enforcement against the often-violent, racially charged and hateful rhetoric of the Black Lives Matter movement, which often openly advocates for violence against police, expressed disapproval.
"Giving a peace prize to a group that foments violent demonstrations would be enough to give irony a bad name," said William Otis, a professor of law at Georgetown and a former federal prosecutor.
---
---
Among the black thugs glorified by the main stream media and the left wing politicians, Michael Slager is the most problematic, because he shot a fleeing suspect (or prisoner!?) in the back.
This
On Monday, December 5, 2016, the South Carolina jury trying white defendant Michael Slager in the April 4, 2014, North Charleston killing of black Walter Scott found itself hopelessly deadlocked, after four days of deliberation. Black Associate Judge Clifton Newman declared a mistrial, and white prosecutor Solicitor Scarlett Wilson vowed to retry and convict Slager, who is also due for an unconstitutional, triple-jeopardy, "civil rights" trial, at the feds' hands. [ After hung jury is declared in Michael Slager trial, prosecutor vows: 'There will be another day', By Andrew Knapp, Post & Courier, December 6, 2016]
(Note that after each side had argued its case, the People threw the wild card of a second option of manslaughter onto the ante. I have no idea what effect that change had on the jury's deliberations, or how the defense would have dealt with the charge, had it known in advance. The change was clearly intended to rescue a botched, political prosecution which had wildly overcharged the defendant.)
I never believed that Officer Slager was guilty of murder, based on the statute ("South Carolina law defines murder as the unlawful taking of life with malice") [ Judge allows lesser charge of manslaughter in former South Carolina cop's murder trial Chicago Tribune, November 30th,2016] the videos, and the legal opinion that a retired, 30-year lawman provided to VDARE.com:
At some point, the officer arrests Scott. He attempts to take him into custody and a fight ensues. But once the arrest decision is made and the officer makes physical contact with Scott, a seizure has occurred. The fact a seizure has legally occurred, once the officer tells Scott he is under arrest and makes physical contact, changes the entire nature of the shooting.
The officer is not shooting a fleeing felon and the shooting is not a Garner seizure. [See below for discussion of Garner—NS] The seizure occurred already, and Scott is actually escaping from custody, which makes him a shoot-on-sight subject. Persons escaping from custody can be shot.
[A Law Enforcement Veteran Speaks in Defense of Michael Slager, VDARE.com, April 12, 2015.]
That means, specifically, they can be shot in the back. Prisoners who are escaping from custody rarely have the courtesy to turn around, and let the pursuing officer shoot them in the front.
The notion that an officer shooting a man in the back under such circumstances is "murder" is one of the many racial fairy tales that racial socialists have institutionalized.
The Conservative Treehouse's analysis apparently showed that Scott had shot Officer Slager with his own Taser.
[...]
The Slager trial must be seen in the context of a 50-year history during which America's elites and non-white underclasses have together waged war on white policemen, by continuously committing crimes against cops, and moving the legal goalposts, in order to handcuff and railroad the police, and free and enrich black criminals and their families.
As I observed 20 years ago in Chronicles, when you handcuff the police, people die. [Letter From New York City, August 1996, PDF]
The people who wanted to see Slager convicted are responding in much the way they responded to the presidential election. They can't imagine how their side lost. And make no mistake: The Michael Slager trial was every bit as political as the election.
The biggest difference between the election and the trial is that virtually no one is publicly expressing relief for Michael Slager.
NOTE: Slager was sentenced to 20 years at another court later &&&links needed &&&
[...]
In the Rodney King (1991-1992) and George Zimmerman (2012-2013) cases, the MSM doctored evidence to make the "white" eventual defendants (the police in the King case, and George Zimmerman in the Trayvon Martin case), look guilty. (Heck, even I was sure the LAPD cops were guilty!)
Every day for at least one year, every evening news broadcast in America opened by replaying the doctored Rodney King tape. Media evil was every bit as much a factor in American life as it is now.
When the all-white, largely pro-cop Simi Valley jury saw the undoctored video, read the police reports, and heard the cops' testimony as to King's violent assaults on them, they acquitted all four officers, Sgt. Stacy Koon, and officers Laurence Powell, Theodore Briseno and Timothy Wind, on April 29, 1992.
Florida authorities sought to railroad George Zimmerman in a show trial, aided by a complicit judge and prosecutor, as well of course a biased MSM, but the predominantly white (and all-female) jury refused to play along and acquitted the defendant.

[Mistrial in Michael Slager Case Grounds for Restrained Celebration—Yet Much Concern]
---
The issue is not the First Amendment. It is not whether players have a right to air their views about what cops did to Michael Brown in Ferguson, or Eric Garner in Staten Island, or Freddie Gray in Baltimore. Players have a right to speak, march in protest, or even burn the flag. [...]
We have been here before. At the Mexico City Olympics of 1968, gold and bronze medal-winning sprinters Tommie Smithand John Carlos each raised ablack-gloved fist as a sign of solidarity with Black America, and not the nation they were sent to represent. [Source: Vdare]
---
reprinted in Full with permission
In my article about the crucifixion of Michael Slager, I said that this approach of railroading (mostly) white policemen, treating black felons like victims, and attempting to buy peace, goes back at least as far as the Rodney King case in 1991. Here's the rest of that story.
Buff, 6'2," 220-lb., convicted felon and parolee King was high out of his mind, and led police on a chase in which he hit speeds of 110-115 mph, in order to avoid going back to prison, and violently resisted arrest, assaulting four white policemen, whom he left no alternative but to brutally but legally beat him with metal batons, until he would submit to arrest.
Instead of being sent back to prison to finish his sentence for armed robbery, plus additional years for his new crimes, King was treated like a crime victim, and a martyr to white racism. Local TV station KTLA doctored an already abbreviated videotape made of the end of King's confrontation with police, by cutting out the passage when King charged the police, thus provoking the baton-beating. The MSM referred to King as "black motorist Rodney King," instead of as "convicted felon Rodney King." Seemingly every TV station in America showed the doctored video thousands of times, causing a frenzy of hate against the policemen, who were prosecuted in state court. A civil court jury awarded him $5.5 million for his crimes.
A white Simi Valley jury saw the undoctored tape, with King assaulting the police, heard testimony, and on April 29, 1992, acquitted the four officers.
Minutes later, the biggest riot in Los Angeles history broke out at the intersection of Florence and Normandie, as blacks burned the city down, causing $1 billion in property damage, 53 deaths, and countless maimings in racially motivated attacks on whites and Asians.
According to the official story, the L.A. riot was an "uprising," a righteous response to the "injustice" of the four LAPD officers being acquitted. The first entry at Yahoo.com for "Florence and Normandie" opens,
Florence and Normandie is the intersection where the 1992 Los Angeles uprising began–a chaotic response to the police beating of Rodney King. Florence and Normandie, Metropolitan Images, last accessed October 9, 2015.
As Lou Cannon showed in his monumental work, Official Negligence: How Rodney King and the Riots Changed Los Angeles and the LAPD, the black rioters at Florence and Normandie were not responding to the jury verdict, about which they were completely unaware. They just decided to terrorize a Korean liquor store owner.
Police at the scene were confident that they could get the situation under control, but their terrified superiors ordered them to flee, which emboldened the ragtag gang of racist blacks to expand their riot. The little riot was shown on TV, which emboldened racist black thugs all over the city. Hispanic criminals then joined in.
The Los Angeles riot was thus a de-policing and media riot. Immediate, muscular policing would have kept black and Hispanic criminals in check.
President George H.W. Bush saw the riots on TV, decided that blacks' racist, psychopathic rage had to be born out of righteous indignation, and ordered the Justice Department to bring him the heads of the four white officers in a civil rights show trial.
In 1993, federal jurors, convinced that if they did not sacrifice at least some white policemen, the "13th juror" (the street) would erupt again, convicted two policemen, while acquitting two.
That was the template for the continuing false charges against white police across America today.
[From Rodney King And Cops–The 90s Version Of Ferguson - VDARE.com]